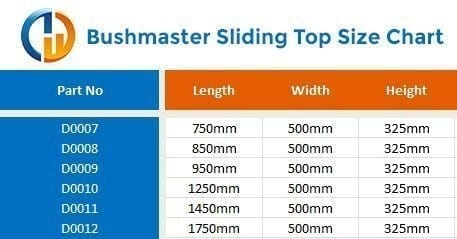 Locally made aluminium drawers with a sliding top and tie down points. Commonly used for storage in canopies, trailers and 4wds, this unit provides storage in the drawer as well as the slide that allows for easy access to a fridge or other items on top. These drawers are built with our 125kg locking drawer slides, they can be upgraded to 227kg slides if required.
Standard units are 500mm wide x 325mm high. We can also build these at custom sizes, if you would like a quote for a different size please send us a email and we'll work it out.
Internal drawer height of the standard height of the bushmaster sliding top drawer = 230mm
Please Note: +10mm to overall width is required for nut heads either side of unit.
*** Please Note: Some Areas within Australia may incur additional freight charges. Customer service will contact you before your order is shipped. ***