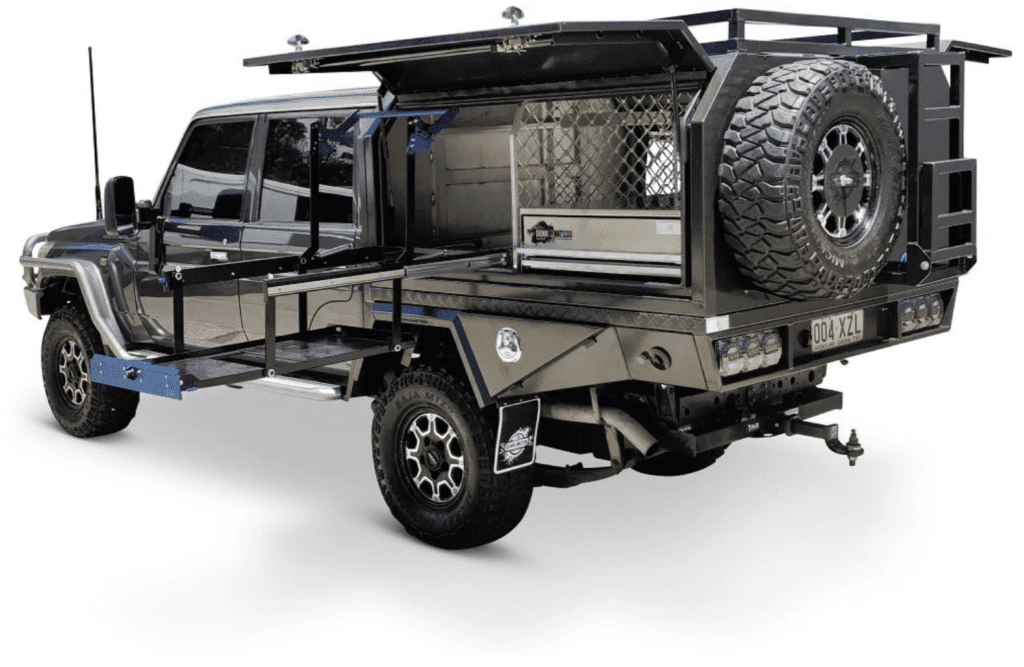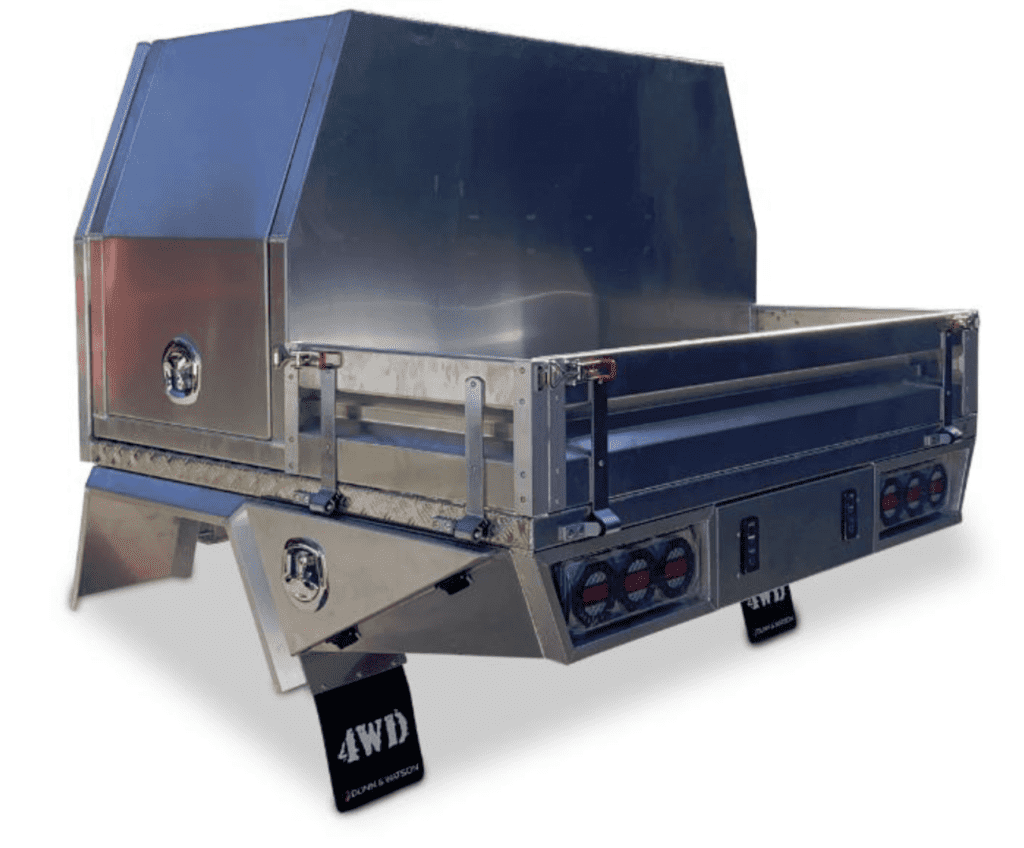 Everything you need for your canopies is right here
At Dunn and Watson, we've got everything you need to build and fit out your four-wheel-drive or ute. Thanks to our unrivalled range of high quality accessories, we'll get your aluminium 4×4 canopy built to your specific requirements.
We're not just the leader in industrial hardware, we're also Aussie owned and operated. That means you can rely on our huge range of locks, seals and hinges to work well and last long with your canopies.
Get a custom tourer tray quote
There's nothing standard about our standard aluminium canopies. Backed by a 2-year warranty, this high grade 2.5 millimetre aluminium checker plate canopy is built to keep up with your off-road and camping activity.
Set with a stainless steel piano hinge with a nylon cover for complete and worry-free dust and water protection, plus gas strut assisted doors, opening and closing this four-wheel-drive canopy is easy.
Plus, we've custom fabricated the design with a braced frame and door so that you'll benefit from its extra strength. The carefully applied weather seal is fitted around the entirety of the door. This ensures that anything closed inside your canopy is completely protected from all the elements and weather.
While our aluminium canopies are versatile for a range of applications, we're also able to custom fabricate a canopy solution just for you. All you need to do is get in touch with our team and let us know what you're after. We'll put together the perfect aluminium canopy to suit your particular vehicle.
Combined with our extensive range of canopy-related accessories, from lift off systems to roof racks and from jerry can holders to drop down ladders, you'll find absolutely everything you need to get your canopy up, running and working just the way you want it to.
Canopies & Trays

- Ute Trays

Our ute trays come in two distinct styles:
The Dunn and Watson Tourer Tray
The Dunn and Watson Tradie Tray
Both the tourer and the tradie tray are available in standard sizes, 1800 millimetres by 1800 millimetres and with a weight of approximately 120 kilograms, but we can also custom build a ute tray to suit your specific requirements.
All of our trays are fabricated on site, right here in Australia, so we can guarantee quality control and durability to the highest of national and international standards. Using tough 3.0 millimetre and 4.0 millimetre aluminium, these ute trays make the perfect complementary addition to any and all canopies.
There are a range of different features to our tray: including the high quality and long-lasting MAXILAMP lights to help you use your tray no matter what time of the day or night it is.
There are a variety of lock types available to go with your tray, depending on your preferences, as well as other optional additions such as custom headboards, double tapered side boxes, under tray drawers and a whole lot more.
The pinchweld seal is completely water proof and dust proof, so you can enjoy peace of mind knowing your tray's interior and contents will be 100% protected. The black rear facing hinge is designed not just to look great but to function even better!
Specially designed, tested and manufactured drawer slides are built to be heavy duty and hold up to 227 kilograms. The side boards include high quality stainless steel strap hinges, gudgeons and nylon bushes. Last but not least, all of our ute trays can also be powder coated or spray painted depending on what you prefer.
When you shop at Dunn and Watson, you'll come for the canopies and trays, but stay for the canopy accessories! We mean it when we say that we've got everything you'll need for a complete end-to-end custom fit out of your vehicle.
4WD Canopy Power Boards
Our canopy power boards are designed to bring the power to your adventure. The 4WD board is a plug-and-play model and provides all of the ports, outlets and functionalities you could need. Complete with a solar panel port, easy-to-instal design and specially designed casing to ensure your cables are efficiently stored, it's simply a must have for your 4×4.
Canopy Roof Top Tent
The canopy roof top tent creates the perfect home away from home. This super lightweight tent doesn't compromise on strength or water resistance making it the perfect addition to 4WD canopies and SUVs. It's also extremely easy to mount onto a roof rack and just as simple to set up and pack away in mere seconds.
Adjustable 4wd Canopy Ladder
If you need an easy and affordable solution for accessing the roof of your canopy or 4WD our adjustable ladder is the perfect answer. This high quality aluminium unit is easily and fully adjustable to suit the size of your spare wheel. Make sure you can reach everything you need with Dunn and Watson.
Extra canopy accessories
If you're ready to take your canopy up a level, make sure to check out our full range of extra accessories. We stock kits, vents, panels and jerry cans all designed to help make your next road trip all the more convenient, laidback and easy.
Aluminium air pressure vent
Canopy control panel
Canopy jerry can holder
Roof basket
Wiring kit
Power kit
Lift off latches
Canopy spare wheel carrier
Tourer tray water tank
Making sure you have enough water shouldn't make you break a sweat, and with our tourer tray water tank it doesn't have to. This compact water tank is the perfect answer for your 4WD, caravan or camper trailer. Australian designed and made, they're perfect for use anywhere in the Aussie outback. Our water tanks also come with a filler, breather and overflow for complete functionality.
Clip on tray
When you need some more space, you need our four-wheel-drive clip-on tray. This handy to use and easy to clip on table from Dunn and Watson transforms the face of your tray's cargo drawer, or the wall of a 4WD canopy into a handy, spacious work area. It doesn't matter whether you're working onsite or taking the day off to head to the beach, there's no such thing as too much bench space. Our clip-on tables are also designed for practical, helpful usage with a tea towel rail, bottle opener and multiple hooks that can be used for hanging either utensils, bags or other accessories.
4×4 and trailer aluminium wheel arches
Dunn and Watson's range of aluminium wheel arches can be custom manufactured for all sorts of utes, trailers and four-wheel-drives. Sometimes called mud guards, these Australian-made wheel arches won't just give your vehicle a tough looking exterior, they'll function well no matter where you drive.
We also stock aluminium tandem-axle wheel arches for dual or tandem axle trailers. These come in a variety of length sizes, so make sure to choose the one that best suits your application. Plus, our arches all come with a pair of Dunn and Watson mud flaps as well!
Extra tray accessories
Don't stop there: check out our full range of extra tray accessories including:
Custom mud flaps
License plate swings
Water pumps
Ute drawers
Window protectors
Are you looking to make the most of the compact storage spaces in your four-wheel-drive or ute? Our tray toolboxes are a great solution! All of our toolboxes are Australian-made from high quality aluminium. This means your tray will be strong and durable without coming at the cost of being super heavy.
Double tapered tray toolbox
The double tapered ute tray toolbox fits perfectly under your tray and can accommodate aluminium wheel arches as well. Constructed to the highest of standards, this completely weather sealed accessory also comes with a whale tail compression handle for easy use and instant access.
Single tapered rope rail ute tray toolbox
The ute tray toolbox is an excellent storage option for rope rail applications. Like our other tray toolboxes, there's plenty of space available for tools, equipment and other items. Corrosion and weather resistant, thanks to the quality aluminium, it's complete with an ergonomically designed whale tail compression handle.
Slide out under tray
The slide out under tray design does exactly what its name suggests: slides out! Enjoy frictionless and seamless access to this deep and stackable storage space solution. Whether you need to keep tools, straps or other items safe from exposure to the weather or other elements, the tight seal will stand up to any off-road adventure.