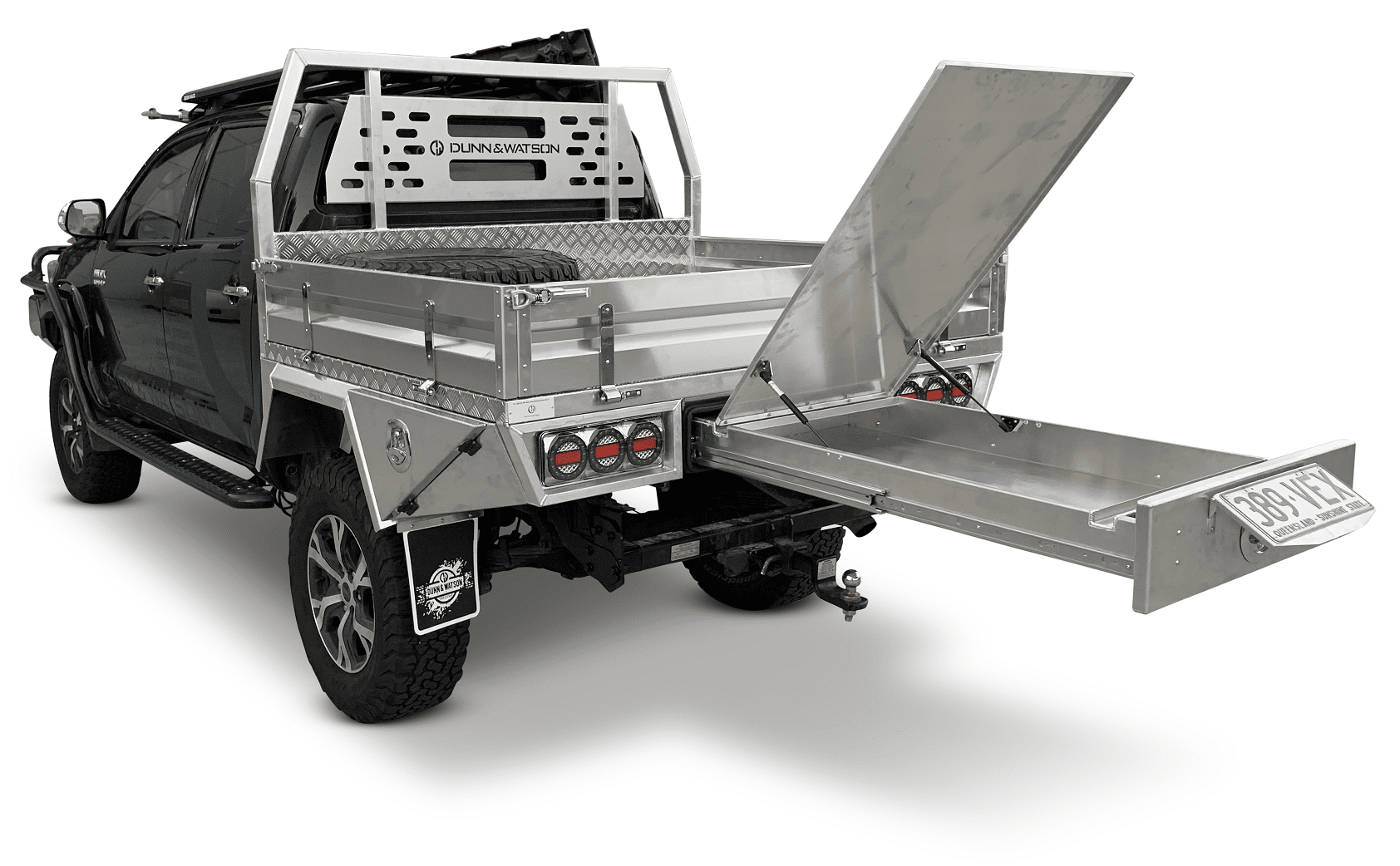 Most of us love our Utes, whether for work or pleasure, but do you really need a custom 4×4 Ute tray? Of course, one of the huge benefits of having a Ute is that you can transport lots of equipment, furniture and rubbish around quite easily, saving a fortune on hiring trailers.
Many people would say 'yes', a custom tray is essential, because they already customise their Utes to within an inch of their lives! There are however, some really practical reasons for installing a custom tray in your Ute. So let's take a look at six of these reasons.
1. Improve your Ute's functionality
If you use your Ute for work, then you might benefit from increasing the functionality of your tray. Combined with a custom canopy that is lockable and has a variety of toolboxes, this is a very workable option for trades people. Choose between a full or part canopy or a centre aisle to maximise the functionality of your Ute.
2. Improve your Ute's storage capacity
When you install a custom 4×4 Ute tray, you can, within limits, choose the size of this tray, so you can increase your Ute's storage or carrying capacity. With additional space in your tray, you can transport more materials or equipment and also carry items like plants and furniture without squeezing them all into a smaller space and damaging them.
3. Changing your job
This is not so far-fetched as it seems, because many people change their jobs and find that they need to carry a lot more materials or equipment in their Utes than they did previously. Instead of changing your vehicle, it's a lot easier and cheaper to simply add on a custom tray, either making the space bigger or more organised.
4. Comfort and space are a priority
With many Utes, you either have a big, spacious and comfortable cabin with a small tray or a big, spacious tray and a small, uncomfortable cabin. If you want the best of both worlds, then a custom 4×4 Ute tray might be the solution. With a custom tray, you don't have to put up with the limitations of generic trays, you can increase the amount of available space, ramping up the flexibility and usability of your Ute.
5. Adding value to your Ute
Who wouldn't want to add value to their Ute? Even if you have no reason to even think of selling your Ute in the future, it might become necessary, so any custom changes will only add to its value. A custom 4×4 Ute tray, particularly if it's steel, will significantly increase the selling price of your ute, making it a very wise investment indeed.
6. Keeping your Ute long-term
If you intend to keep your Ute for many years, it makes sense to spend money on custom modifications, if they suit your needs. Steel trays last for decades because they are solid, tough, resistant to corrosion and can take a beating. In twenty years' time your Ute might be a heap of rust, but your tray will still be shiny and new!
Call us on 1300 210 549 or send us an email to find out more about organising a custom 4×4 Ute tray, for your vehicle.