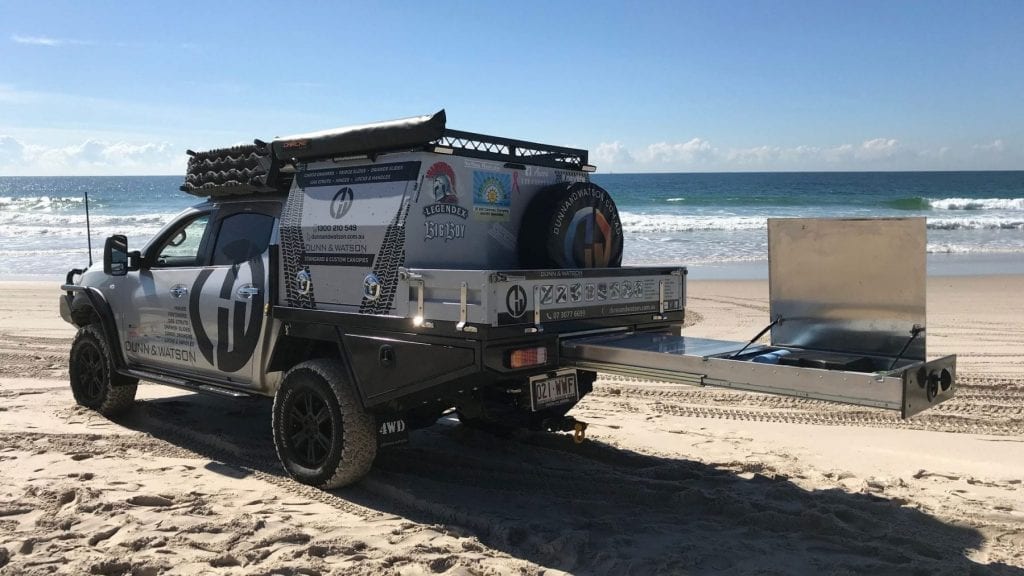 Anyone who is serious about off-road driving needs a good 4WD, but you don't only need a great vehicle, you also need some serious upgrades! The problem is that there are so many different upgrades available, it's difficult to decide which ones are more important than others. 
For example, there are 4×4 drawers and slides, fridges, roof racks, suspensions, winches, tyres, headlights, recovery equipment, deep cell batteries, and UHF radios, just to name a few. So if you can only choose six of these upgrades due to a limited budget – which are the best ones?
Recovery equipment:

No-one should be going off-road without some serious recovery equipment. The absolute basics include rated recovery points on your 4WD, a long handled shovel, snatch straps and shackles. If you are going out on your own with no accompanying vehicle, then you should also take along an exhaust jack and a winch.

Off-road tyres: New tyres are often the first upgrades made by most 4WD enthusiasts, because without the right tyres, you aren't going anywhere! Check out a set of All Terrain or Mud Terrain tyres, but if your budget stretches to it, buy both because they service different needs (All Terrains are good for day to day driving and Muddies for off-road).
Draw systems:

A good set of

4×4 drawers

is an absolute must, because it keeps everything in its place. With 4×4 drawers, you won't have to pull everything out of the back of your vehicle and rummage around to find it, because it's all stowed away neatly. It's a good idea to install a couple of different

4×4 drawers

, one for your recovery gear, one for food, one for your batteries, and one for your fridge, and one for anything you know you will need to find quickly.

UHF radios:

A UHF CB radio can be like gold dust in the outback, letting you communicate with other off-roaders or truckies, even your convoy mates. It's a great way to find out if there are any hazards ahead and to warn others if you have found some! A sat phone us another option, particularly if you are going remote, because you can always get someone on the phone in an emergency (not always on your smartphone however).

Dual batteries:

Everyone knows that they need a good deep cell battery when going off-road camping, but it makes even more sense to take a dual system. If one battery plays up, you always have a second one as a backup. This also allows you to keep your fridge going 24/7, which is important if you are on the road for days at a time. 

Solar panels:

These are the perfect solution to power in remote areas, but don't rely on them as your sole source. You also need a deep cell battery and a propane canister, particularly for remote travelling or free camping. Solar panels or blankets will do the job, just make sure that they are kept clean and pointed in the right direction!
For more information on lots of other 4WD upgrades, check out our website.